During upgrade you get an error message:
"PMX_SP_Create_TMP_Tables": line xx col xx (at pos xxx): feature not supported: global temporary table must be empty to drop.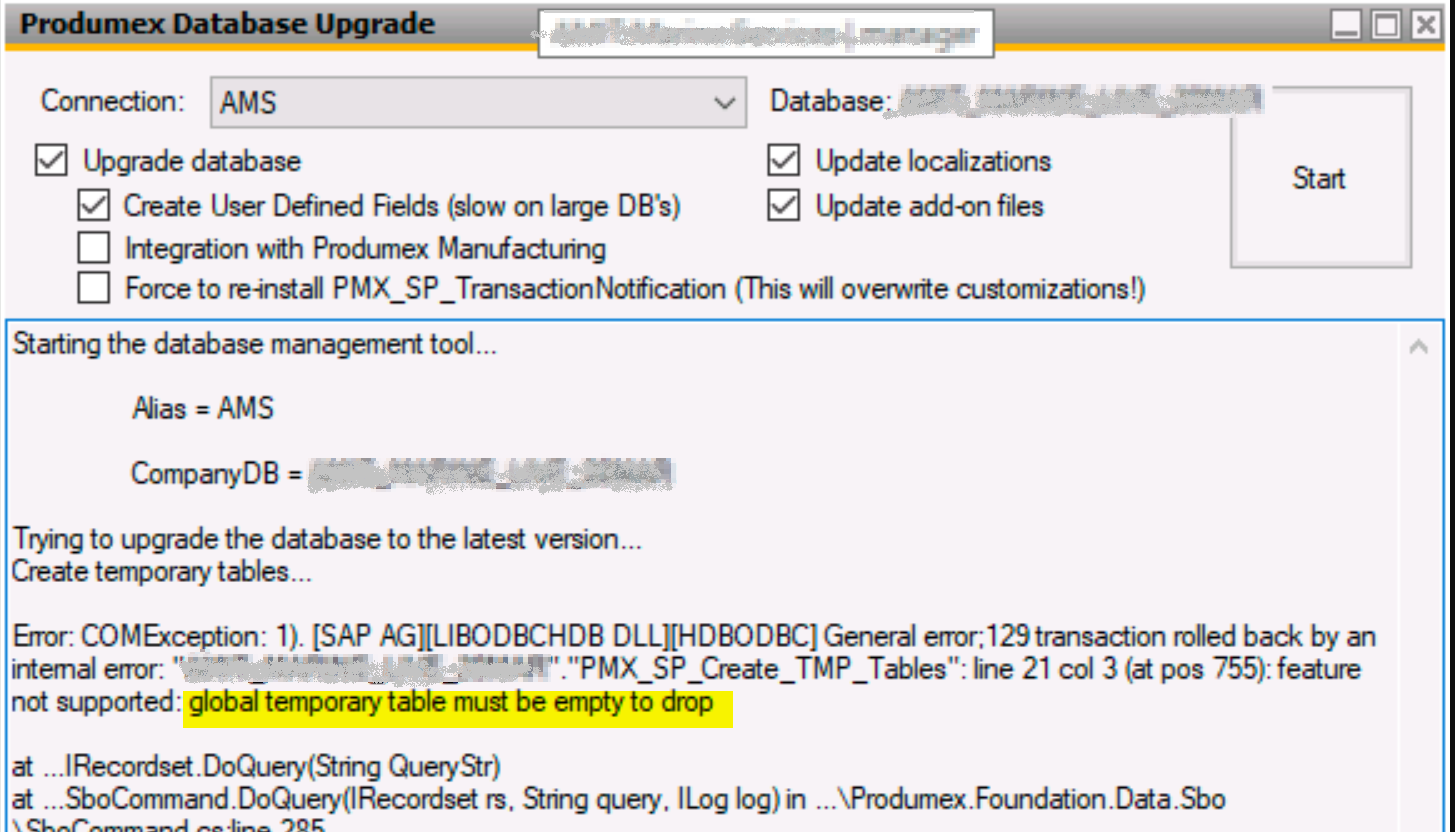 This caused by one or more of the temp tables still having data.
Please ensure that the database you are upgrading does not have any active connections.
No add-on session, no mobile client session.
No robot tool is running on the database, and also the Notification Listener is also stopped (if you use it)
Please note this wiki article: Performing a Version Upgrade

Please run the below queries, it might be not all tables exists that is not a problem.
Please check the temp tables below. If there is a data in one of these tables then empty them, close the Suite Installer and start the database upgrade again.
SELECT * FROM "TMP_BatchToPickForAdHocPicking";
SELECT * FROM "TMP_FirstSequencesForItemForAdHocPicking";
SELECT * FROM "TMP_GetLocationTree";
SELECT * FROM "TMP_GOSOWSS_1";
SELECT * FROM "TMP_IntInt";
SELECT * FROM "TMP_IntStr";
SELECT * FROM "TMP_ItemBatchQuantityBBD";
SELECT * FROM "TMP_LocationSearch";
SELECT * FROM "TMP_LocationsForItemForAdHocPicking";
SELECT * FROM "TMP_LocationsForItemForAdHocPickingDetails";
SELECT * FROM "TMP_RecursiveBoM";
SELECT * FROM "TMP_SalesShippingReturnableItems";
SELECT * FROM "TMP_TN_GenericCodeName";
SELECT * FROM "TMP_TN_GetFreeStockInventoryBatch";
SELECT * FROM "TMP_TN_GetFreeStockInventoryDetail";
SELECT * FROM "TMP_TN_GetFreeStockInventoryItem";
SELECT * FROM "TMP_TN_GetFreeStockInventoryLUID";
SELECT * FROM "TMP_TN_GetFreeStockLockedBatch";
SELECT * FROM "TMP_TN_GetFreeStockLockedDetail";
SELECT * FROM "TMP_TN_GetFreeStockLockedItem";
SELECT * FROM "TMP_TN_GetFreeStockLockedLUID";
SELECT * FROM "TMP_TN_InventorySAPTable";
SELECT * FROM "TMP_TN_Packaging";
SELECT * FROM "TMP_TN_ProductsOnSSCC";
SELECT * FROM "TMP_WhsLocations";
SELECT * FROM "TMP_WhsLocationsSimple";
SELECT * FROM "TMP_GGIX";
SELECT * FROM "TMP_ICLTT_1";
SELECT * FROM "TMP_ICLTT_2";
SELECT * FROM "TMP_TN_1";
SELECT * FROM "TMP_TN_ADDEDLUIDS";
SELECT * FROM "TMP_TN_BATCHNUMBERS1";
SELECT * FROM "TMP_TN_BATCHNUMBERS2";
SELECT * FROM "TMP_TN_BESTBEFOREDATES";
SELECT * FROM "TMP_TN_CHARLISTTABLE";
SELECT * FROM "TMP_TN_CHARLISTTABLENOINDEX";
SELECT * FROM "TMP_TN_CURRENTLUIDS";
SELECT * FROM "TMP_TN_DESTLUIDS";
SELECT * FROM "TMP_TN_DESTQUALITYSTATUSES";
SELECT * FROM "TMP_TN_DESTSTORLOCS";
SELECT * FROM "TMP_TN_DOCUMENTLINE";
SELECT * FROM "TMP_TN_DOCUMENTLINERAW";
SELECT * FROM "TMP_TN_IGNORELOCKING";
SELECT * FROM "TMP_TN_INVENTORYDETAIL";
SELECT * FROM "TMP_TN_ITL";
SELECT * FROM "TMP_TN_LUIDS";
SELECT * FROM "TMP_TN_LUIDSERIAL";
SELECT * FROM "TMP_TN_MASTERLUIDS";
SELECT * FROM "TMP_TN_QUALITYSTATUSES";
SELECT * FROM "TMP_TN_QUANTITIES";
SELECT * FROM "TMP_TN_QUANTITIESUOM2";
SELECT * FROM "TMP_TN_QUANTITYPERLUID";
SELECT * FROM "TMP_TN_SDLINES";
SELECT * FROM "TMP_TN_SSCCS";
SELECT * FROM "TMP_TN_STORLOCS";
SELECT * FROM "TMP_TN_TEMPDETAIL";