You can order subscriptions the exact same way as you order perpetual licenses from the Shop in the Boyum Portal. The user(s) will be available as soon as the order has been placed, according to the Subscription Start Date and you will not be invoiced until the last day of the month.
Go to the Boyum Portal and go to Shop > Purchase.
Select Purchase Software, find the customer in the drop-down menu and select Subscription.
Now, select the product and correct IN/SN from the list and click Next.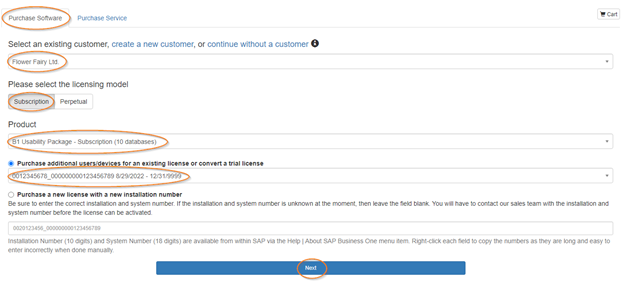 Select Subscription Start Date
Select the date when you want the subscription to start. Please note that your users will be available from this date. You can subscribe to licenses up to 10 days before. This means that if you want a subscription to start on 01.01.20xx, you can order it already on 22.12.20xx in the portal, the licenses will then be released from 01.01.20xx.
Select the duration of the subscription
Select the desired Subscription Period. Please note the different prices, you can find them in the portal under Shop => Price List => Subscription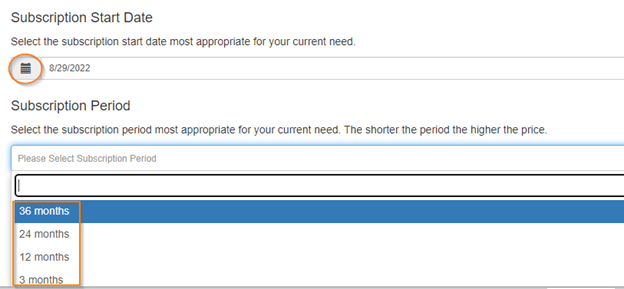 For each product, choose how many users you want to include in that subscription. If you want to have more users for a particular product but don't want to order them right away, you can simply upsell later.
(see article= How to purchase additional subscriptions to an existing one with the same end date).
If you want to go directly to the cart, click Add to Cart/Go to Cart. You can continue shopping if you want to add more products to the order for the same or other customers.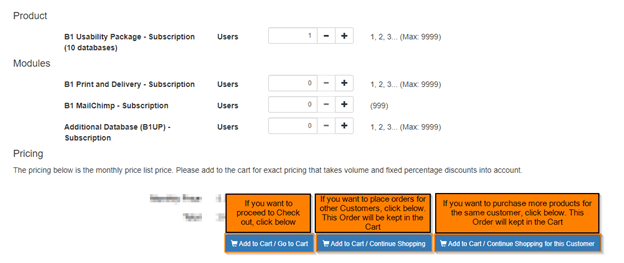 Please note that the immediate price for a subscription order will always be zero. The reason for this is that subscriptions are invoiced by the end of the month and every quarter going forward. If you add services or perpetual licenses to the Cart, the price will display as always.
If you have selected that the subscription should start on today's date, the users will be accessible as soon as you have completed the order. The users will work until the invoice has been paid in accordance with the due date printed on the invoice.