General information about Synchronization
Synchronization is a subscription ordering feature that makes it possible to align the end date and invoice date of a new subscription with the end date and invoice dates of existing subscriptions, so the subscriptions are invoiced and renewed simultaneously.
Synchronization is solely about aligning dates and the new subscription is in no way linked to the existing subscription. Both subscriptions are still completely independent.
How to proceed
Please note that it is necessary that the new subscription has the same duration as the existing one, otherwise the function to synchronize the end date is not available from the portal. So please check, before the new order, which duration the existing subscription has.
In this example you can add a new 36-month subscription (End date 8/28/2025) or a new 24-month subscription (End date 8/28/2024), the end date will then synchronize to the existing subscription.

You can order subscriptions the exact same way as you order perpetual licenses from the Shop in the Boyum Portal. The user(s) will be available as soon as the order has been placed, according to the Subscription Start Date and you will not be invoiced until the last day of the month.
Go to Shop > Purchase
Select Purchase Software, find the customer in the drop-down menu and select Subscription.
Now, select the product and the correct IN/SN from the list and click Next.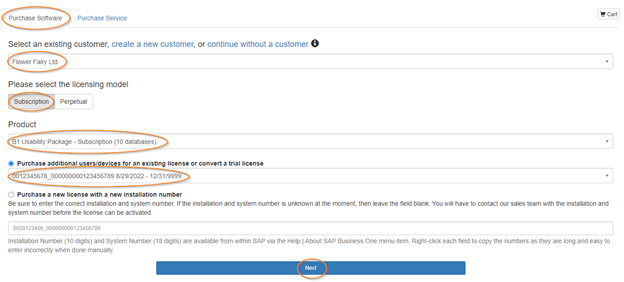 Select Subscription Start Date
Select the date when you want the subscription to start. Please note that your users will be available from this date. You can subscribe to licenses up to 10 days before. This means that if you want a subscription to start on 01.01.20xx, you can order it already on 22.12.20xx in the portal, the licenses will then be released from 01.01.20xx.
Select the duration of the subscription and thus release the function for synchronization
Choose the desired subscription period. Please note the different prices, you can find them in the portal under Shop => Price list => Subscription.
If you choose the same duration as an existing subscription, you will be given the option to synchronize the new subscription with the end date of the existing subscription. If you want this, please choose from the drop-down menu, in this selection are the existing subscriptions that have the same duration as the new subscription and whose end date is before the start date of the new subscription.

Then select the licenses as usual and add them to the shopping cart.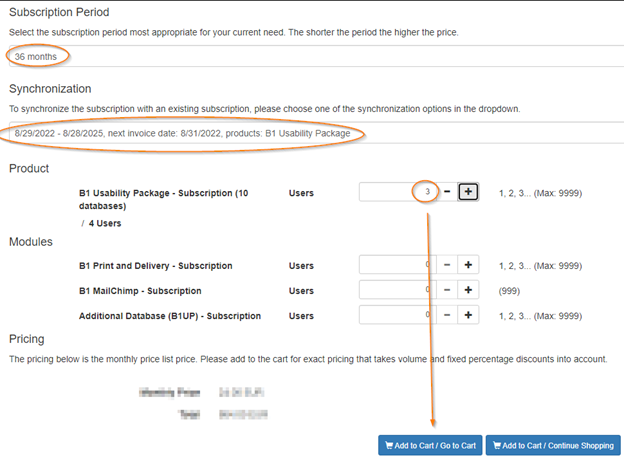 Please note that the instant price for a subscription order is always zero. This is because subscriptions are billed at the end of the month and every quarter going forward. If you have a synchronized purchase, the new order will be billed on the next invoice of the existing subscription.

If you have selected that the subscription should start on today, the users will be accessible as soon as you complete the order. The users will work until the invoice is paid according to the due date printed on the invoice