Log on to the Boyum portal: https://portal.boyum-it.com/
Trial for a new prospect
If the prospect is not registered in the Portal yet, go  to "Customers" in the left menu and select "Trial for a New Customer".
Click on the product you wish to create a trial for.
Follow instructions and press "request". The trial will automatically have your company assigned as a partner.
NB: Should the installation number already be in use, you will receive a notification. In this case, please contact "sales@boyum-it.com". 
Trial for an existing customer
If the customer already has a trial license or maintenance license, the customer is existing.  
Go to "Customers in the left menu and select "Customers".
Find the customer on the list and click on "Create Trial License" (the button is located to the right, above the license status)
Follow instructions and press "request".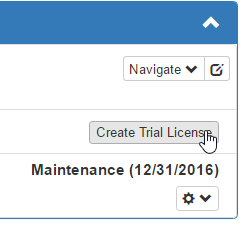 License Module Trial for an existing B1UP license
If the customer has already installed B1UP and you want to add module licenses, you need to go to the line of the B1UP license
Click on the arrow icon and the menu will expand.
Select "Create Trial License Module".
Click on the module you wish to generate a trial for
Repeat the procedure if you want more modules added to the trial.