We have enabled partners to replace invalid placeholder installation numbers (the so-called dummy numbers).
Important:
ALL licenses need to include installation number + system number - these are divided with the token "underscore". Example:
0025632563_000000000256325632
Please note that partners cannot manage existing valid SAP B1 installation numbers, only change from invalid numbers to a valid SAP B1 installation number!
This is how to exchange an invalid number to a valid SAP B1 installation number:
Before you start, please make sure that you have the correct installation+system number of the customer. Look up the correct SAP installation number of the customer (find it here).
- Log into the Boyum Portal.
- Go to "All Customers" - use "Quick Search" to find the customer

- Go to the customer's profile and click "Edit customer"
- Go to "Installation Numbers" and click "Change Installation Number"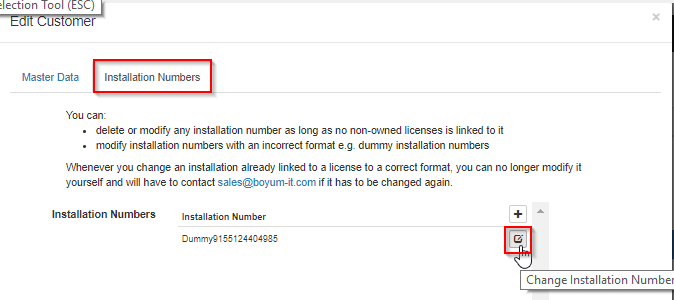 - Mark the existing number and overwrite with the new SAP installation number:

The default print (in grey) will show you how to do it.

- Insert your customer's installation +system number

- Press "OK" and you are done.
The new number is now ready to use after start up of SAP Business One. You find the download link to upgrade all software under Partner Resources > Product Related Material in the Boyum Portal.
Please note that it's not possible to upgrade a license which is out of maintenance!