UPDATE: We now have a workaround release for the issue. See Comment below original text
UPDATE 2: SAP have reported back that this will be fixed in 9.3 PL 12

UPDATE 3: SAP Have indeed fixed this in PL12, but have unfortunately introduced a new Font-size bug in the final release where some forms do not scale incorrectly... This issue has been reported to SAP. The workaround for the PL10 and PL11 issue also work around this new issue.
UPDATE 4: The issue is almost fully fixed in SAP 9.3 PL13. The only small issue is a resize issue around columns on certain screens (they do use the entire width of the screen but are else functional) We will fully fix that with B1UP 2020.03 release in March
Q: What is wrong?
A: SAP 9.3 PL10 and PL11, unfortunately, have a font-size bug that makes screens from B1UP and iPayment look wrong. They look like they are simply too small and can't fit its items + the items seem too big.
Example: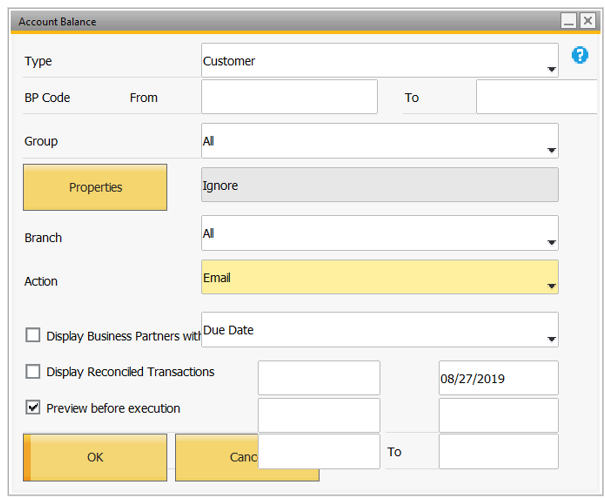 Q: Who is affected?
A: Everyone running SAP 9.3 PL10 or PL11 running on a bigger font-size than 10 pixels
Q: What is Boyum doing about the bug?
A: We are in dialog with SAP Support (SAP Ticket 522768/2019 for those that are interested). At the moment of this writing, SAP has acknowledged that this is a bug but are yet to provide a plan for the solution (we will update here as we know more)
Q: I have this issue. What kind of workarounds can I do?
A: There is, unfortunately, little that can be done at this moment other than running font-size 10 in the client. We normally have a system to disable font-size adoption but that system also seems to affect by the bug. We have ideas for other workarounds but need to know SAP's plans for the bug before we can carry them out.
Q: I'm a nerd and is interested in what exactly is wrong here?
A: Attached to this article are the information logged to SAP Support that provides the technical details