[Legacy note] This version is not supported anymore, if you have this issue, please upgrade the B1UP installation.
If you are running SAP 9.2 or higher in combination with a B1UP or iPayment version lower than 2015.12 you might receive an error message like this when opening our License screen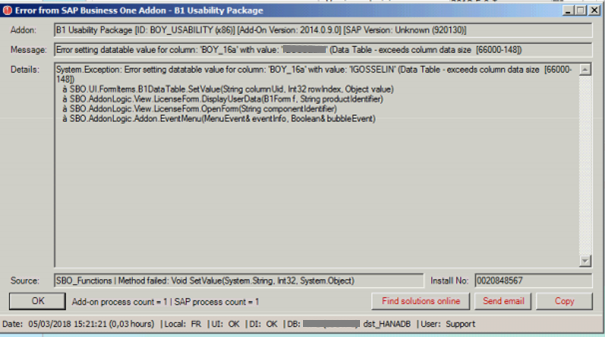 This happens because prior to SAP Business One 9.2 the username of SAP users (in table OUSR) could max be 8 chars long. In 9.2 this was increased to 25 but add-ons made prior to this change (aka add-ons made before version 2015.12) still assume username can max be 8 chars.
So if you then make a username that is longer than 8 chars and try to open our license screen where we display the username you will get an error that the values can't be seen (as you can't show example a 10 char long username in a max 8 char long field).
The solution to this is to move to B1UP 2015.12 or higher (but strongly recommended 2016.02 or higher as that is the first version that officially supports SAP 9.2)
You can download B1UP here: https://www.boyum-it.com/sbo/ and iPayment here: https://download.boyum-it.com/iPayment/