[Legacy note] This version is not supported anymore, if you have this issue, please upgrade the B1UP/SAP installation.
Update 15th of June 2016: SAP has now released SAP 9.1 PL12 HF1 and we can confirm it resolves the issue :-)
Update 24th of May: SAP has confirmed that they can reproduce the issue and is working on a fix.
Hi All
There is right now a big problem with SAP 9.1 PL12 when you use a font/font-size other than Tahoma 10 pixel.
Who is affected?

Only people running SAP 9.1 PL12 + Run a font-size that is other than Tahoma 10 pixel are affected. There is a good chance that the upcoming 9.2 PL03 will also be affected but we hope to resolve the issue with SAP before it releases.
How does the issue manifest itself?
There are many signs but the one you properly will see first is that the result of your Item Placement Tool configurations on the SAP screens look wrong and things like Toolbox flags and buttons are in the wrong place. If you then go to Item Placement Tool or Universal Function to "fix" this you an error like this:
Could not find item with UID: "BOY_11" on Form: BOY_IPT_CONFIG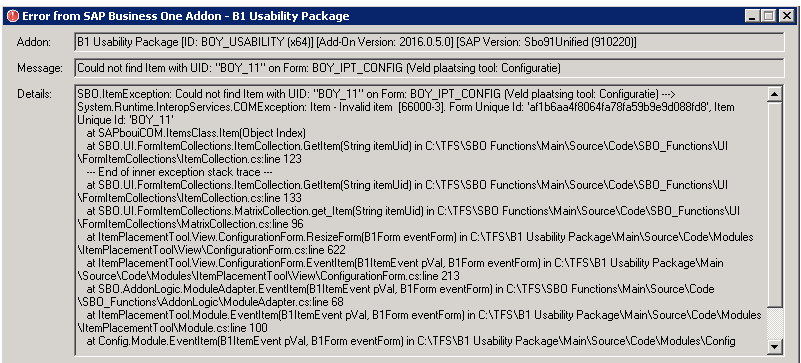 ...Resulting in you can't open the screen
I have the issue right now! What can I do?
First, we need you to be able to get into your configurations. This can be done by setting the font to Tahoma 10 pixel where the issue does not happen.
I'm now in the configurations. How to fix the IPT placement issues.
There is actually not really something wrong with your config but due to the bug from SAP, our optimized mode for applying the result does not work. For that reason, you need to open the Item Placement Tool config and in the lower-left corner switch the render mode from "XML" to "Code". This will result in the configurations being a bit slower but at least they place the items correct.
What about Toolbox flags and buttons. They are still in incorrect places?
There is unfortunately no workaround for here and now (except for setting the font to Tahoma 10). We will work with SAP so they hopefully push out a HF1 to PL12 soon but we will let you know once we know more.