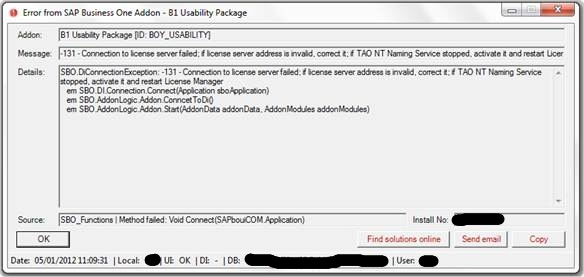 First try the things indicated directly by the error message and then try these SAP Note: https://websmp202.sap-ag.de/sap/support/notes/1142479 and https://websmp230.sap-ag.de/sap/support/notes/1658707
Check the actual connection is possible
Check if any firewall or anti-virus is blocking the connection (Temporarily turn it off)
If above does not help then please check the following thread on SDN: http://forums.sdn.sap.com/thread.jspa?messageID=10847438#10847438
Quote from the SDN:
"SAP found a solution this problem. The problem was with the file b1-local-machine.xml in DI API Directory on workstation (C:\Program Files (x86)\SAP\SAP Business One DI API\Conf). In node "value" was value localhost. When I changed on the IP SAP server then everything works fine.
before <value>localhost:30000</value>
after <value>192.168.100.10:30000</value>"
If above does not work then please try to reinstall DI-API/B1 Client