Disclaimer: Boyum Solutions are not experts in 3D Secure and the Trust Payments (Secure Trading Gateway; we just integrate with it). Please send all question on the below content to Trust Payment's support (support@trustpayments.com)
Q: What is 3D-Secure and why does it come up now?
A: 3D-Secure is a sort of 2-factor authentication for Credit Card Payments and it is up in the news at the moment because as of 31st of December 2020 it becomes mandatory in Europe. You can read more about it here: https://www.trustpayments.com/3ds2/


Q: What impact does this have on B1 iPayment?
A: We have been talking with Trust Payment support about this and the conclusion based on their feedback is that since you in a B1 iPayment scenario are handling your customers Credit Cards on their behalf it is the recommendation from Trust Payments that you run B1 iPayment in "MOTO" mode
The direct answer from Trust Payments

The MOTO Mode is set in the B1 iPayment Configuration instead of the normal ECOM mode (aka the Default)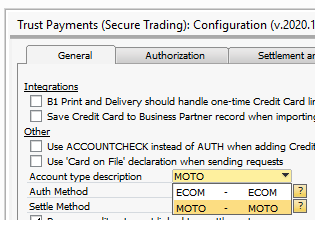 Q: What is the difference between ECOM and MOTO?
A: Please address this question to Trust Payment's support as we (Boyum) are not experts in their configurations and they can vary between accounts.. From our test-account, we noticed slight changes in the Add CC and Pay Now Link Screens (for example we could not choose American Express in MOTO mode, but that might be a configuration on the test-account).
Q: How do I switch to MOTO?
A: As mentioned it is a setting in the B1 iPayment Configuration, but please contact Trust Payments support to ensure your account is ready for MOTO (According to them you need a special merchant ID for MOTO).
Q: What happens to the existing Cards and Transactions if I switch to MOTO?
A: According to Trust Payment's support the switch should have no effect + on our own test-account we did not see any issues switching around
Q: What happens if I do not switch?
A: Well, that is the interesting part. Using the test-data from Trust Payments we simulated using B1 iPayment with 3D-Secure on a non-MOTO account:
Add Credit Card Screens worked as before (no 3D-Secure popup)
Adding a credit card to authorize and settle worked as before
Pay-Now links presented the user with the 3D Secure screen in ECOM mode (In MOTO Mode it did not) but since Pay Now links are filled in by the owner of the Credit Card it posed no issues
So as you can read above, from a technical perspective, it seems that it is not needed to switch to MOTO (things still work). However, we (Boyum) can't verify if something is technically possible if it is legally compliant, so the recommendation still stands from Trust Payments that MOTO is the correct way to work, and we can't verify if your specific situation need to switch or not (you need Trust Payments to help you there)