Although Beas Manufacturing is not a native cloud solution, you can turn it into a cloud solution for your customer by creating your own hosted cloud server or through a public or private provider.
In the latest release of Beas Manufacturing 2020.02 and 2020.03, Beas made great effort to be compatible with Public (and private) cloud environments of SAP Business One. To achieve this goal, Beas started with several modifications in the core of the application to be compatible with "Cloud Control Center (CCC)". Currently, the following functionalities are available:
Lightweight installer is now included into 2020.02 version

The version 2020.02 has Lightweight Installation files. To install Beas as a lightweight add-on, please login to the "Manage extensions for lightweight deployment" portal of SAP, and follow the steps described by SAP to install and activate the add-on.
SLD compatibility to DI-API connections
Now Beas supports DI-API connections based on SLD server. Beas supports the old License server connection and also the new SLD server connection.
SLD connection always has more priority than License Server connection.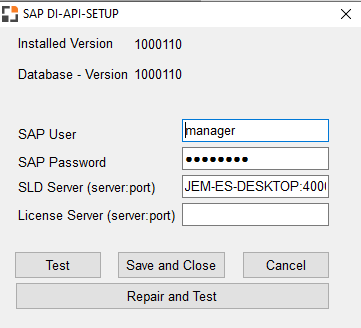 Single Sign-On login process in SAP
Beas supports "Single Sign-On" login process in SAP. You can login in SAP using standard Single Sign-On login process and Beas will work as a normal add-on. Available in version 2020.03
Single Sign-On login process in Beas Standalone version
Currently, Beas does not support "Single Sign-On" login process in the Beas Standalone Application. To log into Beas Standalone, only SAP user/Password is allowed. This functionality will be implemented in the following version of Beas.