Employee tries to login in the Produmex Scan client application.
After pressing the Login button, the error below appears: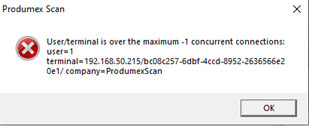 This message means that there is not enough free license.
Open the "Produmex License Administration" window and check the license data.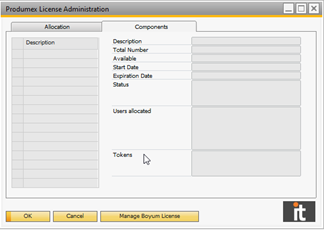 If no license appears then probably the application is not able to download the license automatically.
In this case you can download the license and import it manually. You can find more information about this process on the url below.
http://wiki.produmex.name/doku.php?id=implementation:scan:licensing#offline_solution
Renewing the license


You can see the same error if your license was expired, and you renewed your license on the portal.
You have to follow the steps below after renewing the license:
Start the Produmex Scan Add-on in SAP. This step will download the license information from the portal.
Check the license on "Produmex License Administration" window. Import the license manually if it is necessary.
Restart the ServiceBroker service


In case the license is valid, and you still receive the same error after restarting the ServiceBroker then you can check how many the connected terminals do you have in your system on the url below. Replace the IP with the IP of the computer on which the ServiceBroker is installed an the if you are using the default port then replace the PORT with 50231.

http://<IP>:<PORT>/api/admin_accesstokens