This note describes how to generate a new SSCC number and print label from a script.
You can automate this task with the following script configured for Produmex Robot tool.
In this example I am going to do the following steps:
selecting the DocEntry, ItemCodes from Picklists where the content of the PickPackRemarks field is "print"

generating new LUID from PmxLogisticUnitIDProvider object by method GenerateNewLogisticUnit(null)
Creating the PmxReportProvider object to get the report from OSE reportProvider.GetBO(6);
Creating the PmxOsePrinterProvider object to get the printer from OSE printerProvider.GetBO("PRINTER");
Configuring the parameters of the report
Printing the report PrintReport(report, printer, null, 1, null, reportParameters);
Updating PickPackRemarks filed in the Picklist to "Printed"
I created a new label file for the logistic unit label, and I added some other parameters to the parameter list.

I configured the report file in OSE. I am going to use the ID of the report file in the script: 6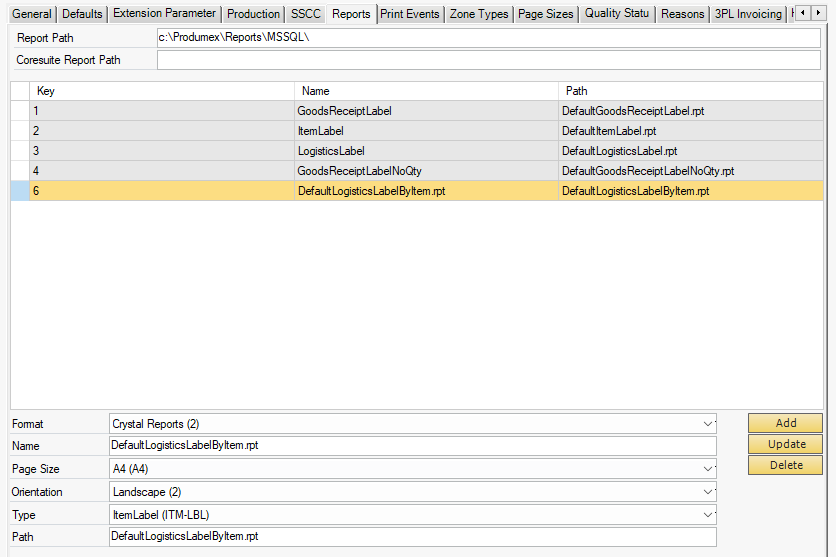 I am going to use the printer code from the OSE: PRINTER

Creating the script
Next, save the following script as PrintAndGenerateLabelForPicklist.cs into folder C:\Program Files\Produmex\Produmex Tools\CsScript\
//css_ref CrystalDecisions.CrystalReports.Engine.dll;
using Produmex.Foundation.Data.Sbo.BusinessObjects;
using Produmex.Foundation.Data.Sbo.Utilities;
using Produmex.Foundation.Data.Sbo;
using Produmex.Foundation.Diagnostics;
using Produmex.Sbo.Logex.Data.BusinessObjects;
using Produmex.Sbo.Logex.Data.Providers;
using System;
using System.Collections.Generic;
using System.Linq;
using System.Reflection;
using System.Text;
using System.Threading.Tasks;
using System.Transactions;
using Produmex.Sbo.Logex.Data.Devices;
using Produmex.Sbo.Logex.Data.DataObjects;
using static Produmex.Foundation.Data.Sbo.ViewObjects.Definitions.Views.PmxParameterValueViewDefinition.Columns;
using System.Collections.ObjectModel;
using Produmex.Foundation.Data.Sbo.DataObjects;
using System.Security.Cryptography;

namespace AddUpdateData
{
    internal class Program
    {
        private static string CONNECTION_STRING = "ADDYOURCONNECTIONSTRINGHERE";
        private static readonly ILog s_log = LogProvider.GetLogger(MethodInfo.GetCurrentMethod().DeclaringType);

        static void Main(string[] args)
        {
            try
            {
                DoSomething();
            }
            catch (Exception ex)                    
            {
                s_log.Error("", ex);
                Console.WriteLine(ex);
                Console.ReadLine();
            }
        }

        public static void DoSomething()
        {
            List<int> Luids = new List<int>();
            List<int> PLDE = new List<int>();
            List<string> ItemCodes = new List<string>();
            int iLuids = 0;
            string PlDocEntries = "";
            string LastDocEntry = "";

            // OPEN TRANSACTION
            using (TransactionScope scope = PmxDbConnection.GetNewTransactionScope())
            {
                using (PmxDbConnectionDirect conn = PmxDbConnectionMgr.GetDirectConnection(SboConnectionString.ParseStringToObject(CONNECTION_STRING)))
                {
                    conn.Open();
                    string query = @"select  


                                     PMX_PLLI.ItemCode, PMX_PLHE.DocEntry


                                    from 


                                     PMX_PLLI left join PMX_PLHE on PMX_PLLI.DocEntry = PMX_PLHE.DocEntry


                                    where 


                                     PMX_PLHE.DocStatus = 'O' and PMX_PLHE.PickPackRemarks = 'print'


                                    order by PMX_PLHE.DocEntry, PMX_PLLI.ItemCode
                                    ";
                    using (ISboRecordset rs1 = SboRecordsetHelper.RunQuery(s_log, query, conn))
                    {
                        while (!rs1.EoF)
                        {
                            if (LastDocEntry != rs1.GetTypedValue<int>("DocEntry").ToString() )
                            {
                                if (PlDocEntries == "") { PlDocEntries = rs1.GetTypedValue<int>("DocEntry").ToString(); } 
                                    else { PlDocEntries += ", " + rs1.GetTypedValue<int>("DocEntry").ToString(); }
                                LastDocEntry = rs1.GetTypedValue<int>("DocEntry").ToString();
                            }
                            PmxLogisticUnitIDProvider luidProv = new PmxLogisticUnitIDProvider(conn);
                            Luids.Add(luidProv.GenerateNewLogisticUnit(null));
                            ItemCodes.Add(rs1.GetTypedValue<string>("itemCode"));
                            PLDE.Add(rs1.GetTypedValue<int>("DocEntry"));
                            iLuids++;
                            rs1.MoveNext();
                        }
                    }
                }
                scope.Complete();
            }
            if (iLuids > 0) {
                using (TransactionScope scope = PmxDbConnection.GetNewTransactionScope())
                {
                    using (PmxDbConnectionDirect conn = PmxDbConnectionMgr.GetDirectConnection(SboConnectionString.ParseStringToObject(CONNECTION_STRING)))
                    {
                        conn.Open();
                        PmxReportProvider reportProvider = new Produmex.Sbo.Logex.Data.Providers.PmxReportProvider(conn);
                        PmxReport report = reportProvider.GetBO(6);
                        PmxOsePrinterProvider printerProvider = new PmxOsePrinterProvider(conn);
                        PmxOsePrinter printer = printerProvider.GetNewBO();
                        printer= printerProvider.GetBO("PRINTER");
                        for (int i = 0; i < iLuids; i++)
                        {
                            Collection<ReportParameter> reportParameters = new Collection<ReportParameter>();
                            reportParameters.Add(new ReportParameter("@luid", Luids[i]));
                            reportParameters.Add(new ReportParameter("@itemC", ItemCodes[i]));
                            reportParameters.Add(new ReportParameter("PLHE", PLDE[i]));
                            ReportPrinterDevice device = new ReportPrinterDevice(conn);
                            device.PrintReport(report, printer, null, 1, null, reportParameters);
                        }
                        string querySSCC = @"update PMX_PLHE set PickPackRemarks = 'Printed' where DocEntry in (" + PlDocEntries + ")";
                        SboRecordsetHelper.RunQuery(s_log, querySSCC, conn);
                    }
                    scope.Complete();
                }
            }
        }
    }
}
Run the Robot tool with the necessary parameters. Set the connection string in the last parameter (yourconnectionstringhere)
"C:\Program Files\Produmex\Produmex Tools\Produmex.Sbo.Logex.Tools.Robot.exe" /t:csscript /a1:"C:\Program Files\Produmex\Produmex Tools\CsScript\PrintAndGenerateLabelForPicklist.cs" /cs:yourconnectionstringhere
Pause