Starting from 10.10.2022, the Boyum support ticket creation form will only be available to users that have a Boyum Portal account. If you don't have an account yet, please contact your company Boyum Portal account administrator to create an account for you.
Once you're logged in to the Boyum Portal, you can now easily access the support web form from the top menu: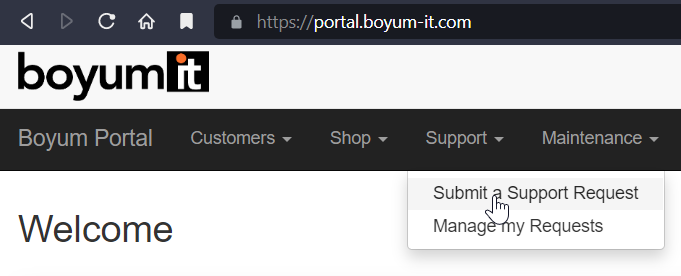 Please note that the e-mail address of the Boyum Portal and Help Center account needs to match to see the ticket activity inside "My Activity view". If you have created a Help Center account with a non-business e-mail address, it's recommended to create a new account with a business e-mail that matches the Portal account e-mail.
You can access the Help Center "My Activity" -view from the "Manage my Requests" option:





Please check the following articles in order to sign up:
How to sign up to Boyum Portal