We are happy to announce a brand new online eLearning hub which includes training programs on the different products which include video recordings, power point slides and exercises.
eLearning courses allow you to move through the course at your own pace. These courses are not taught by a live instructor, and instead, guide you through a series of lessons that include exercises. This allows you to learn any of our products when you want. The only thing you need is an internet connection.
Why to learn in an eLearning format?
E-Learning courses are "self-study", consultants may access courses from their workstation, designated office PC's, or from home at any time that is convenient 24x7.
E-Learning course sessions (training time) are typically 30-90 minutes and courses are usually completed in multiple sessions (total course time varies by course).  Sessions do not require ½ or full day commitments out of the office.
Provide training to consultants when it's most needed - with no waiting
Minimize consultants "out of the office" time
Reduce travel expenses associated with outside training classes
Which products are included?
The following programs are currently available on our eLearning hub:
What are the subscription options?
eLearning subscription allows you to gain full access to all training material for the entire year. 
The eLearning prices are calculated on an annual basis for up to 5 users:
Bronze partner – 1000 Euro
Silver partner – 500 Euro
Gold partner – free
Platinum partner - free
Direct customer – 1000 Euro
If you are a customer and would like to get access, please contact your partner.
How can you purchase an eLearning subscription?
You can log into the Boyum portal to purchase an eLearning annual subscription plan.
We recommend your organization will setup an eLearning account manager to manages the eLearning subscription and users.  
First you need to login into thew Boyum Portal with your user and password. Then select the Shop > Purchase menu.
Switch to Purchase Services tab. 
Choose "eLearning annual subscription – 5 users"  and fill in the quantity field and Add to Cart.

Important! Please make sure to write the account owner email in the Your Reference field in the Check Out page.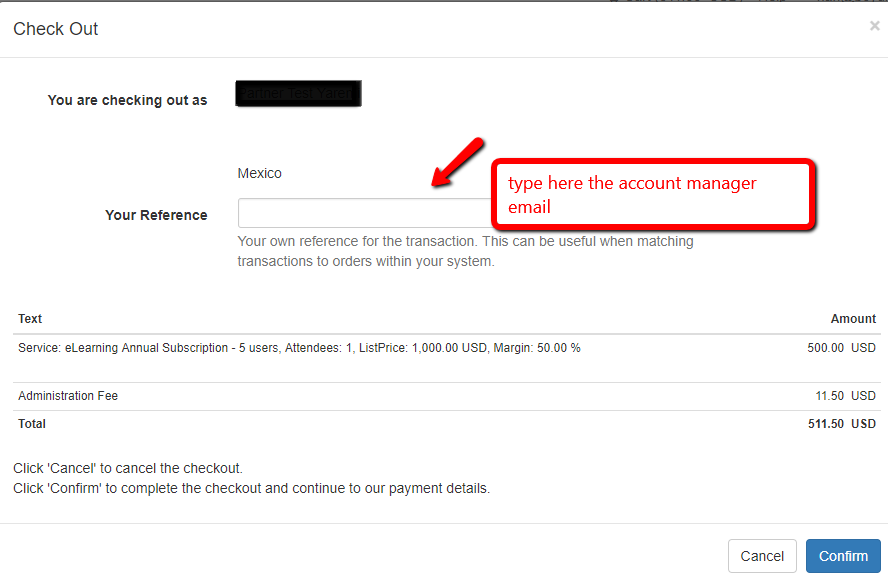 Once the eLearning subscription has been paid for, the account manager will receive an email with his access to the adobe e-learning hub within 1 business day after payment has been made.
Gold or Silver partner?
Please note that the price will be 1000 Euro by default. Therefore, you will need to request a coupon from your Boyum IT sales representative.
Have questions on how to use the eLearning hub?
Are you a user? - Please refer to this article.
Are you an account manager? - Please refer to this article.