If a customer doesn't wish to continue being in maintenance, the partner has the option to hide the customer. This means that the customer will not be selectable when renewing maintenance in the Boyum Portal under Maintenance > Renew Maintenance.
If you wish cancel one or several products, please contact sales@boyum-it.com.
The customer can always return to maintenance. Simply deselect "Hide on Maintenance Pages" again and pay the maintenance up till the end of the current year. Kindly note that a reinstatement fee will apply.
Maintenance is only paid for perpetual licenses. You can read more about maintenance renewal here: FAQ Maintenance Renewal.
This is how you do it:
Search for your customer and click "Edit Customer"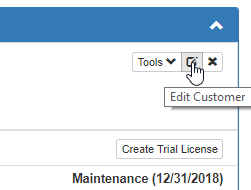 2. The customer's "Master Data" will open. Scroll down the window and click "Hide on Maintenance Pages".

3. Select "Reason for Hiding"
4. Press "Save"

Please note that your customer needs to be on maintenance for the current year to receive support and to upgrade to the newest product version.