If a customer doesn't wish to continue being in maintenance, the partner has the option to hide the customer on maintenance. This means that the customer will still be visible in the partner's overview, but will not appear actively on the "renew maintenance" overview.
Please note that this is a cancellation for all the customer's licenses! If you wish to cancel only a single or several licenses, you need contact sales@boyum-it.com. 
The customer can always return to maintenance (as per Boyum IT's terms & conditions).
This is how you do it:
Find the customer and go to "Edit Customer"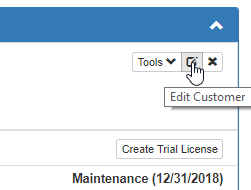 Under "Master Data" you can go to the bottom and select "Hide on Maintenance Pages".

Select "Reason for Hiding"

Press "Save"