The Boyum Portal is where you manage your customers' licenses, partnership with Boyum IT Solutions and access the Partner Resources. We strongly encourage all Boyum partners to create a login for the Boyum Portal for new employees.
Users can give access to new users and manage existing users' details (like name and email).
This is how you do it:
Go to My Company > Users and click Create New Admin.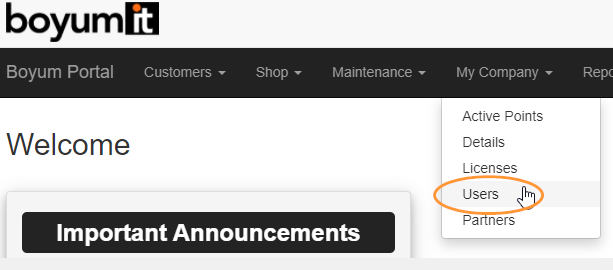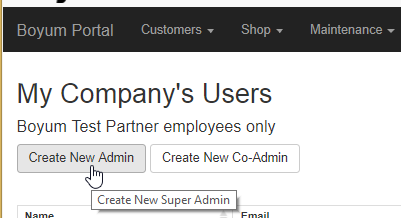 The difference between an Admin and Co-Admin is that for the Co-Admin, you can give restricted access to one or more customers. Admin will allow the new user to see all customers.
Further options:
When browsing the list of portal users, you have the options to edit, delete or send new password for the users:


If you have forgotten your password to the Portal, please request a new one when reaching the Boyum Portal login page. If you haven't got a login yet, please contact a Boyum Portal admin in your company or text sales@boyum-it.com.